Thomson Reuters' Practical Law Journal: Transactions & Business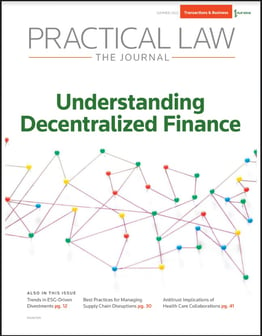 We're pleased to share Thomson Reuters' award-winning publication, Practical Law The Journal, which will help you stay up to date and informed on important changes to your practice.
Each issue is created and curated by Thomson Reuters' dedicated team of editors in collaboration with leading practitioners.
The Transactions & Business edition covers the latest transactional and compliance topics across major practice areas.
This issue explores topics including:
ESG-driven investments
Understanding decentralized finance
Managing supply chain disruptions in a crisis
Antitrust analysis of health care collaborations and joint ventures
Compensation issues to consider when hiring executives
Out-of-court and bankruptcy issues for distressed retail tenants
Cyber risk in finance
General counsel Q&A

Fill out the form to view this report today!


By filling out the form you are opting in to receive communication from Above the Law and its Partners.
---