The State Of Today's Corporate Law Departments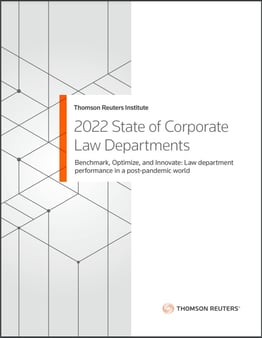 Corporate law departments underwent a period of rapid change during the global COVID-19 pandemic.

This ongoing crisis looms large, even as the world progresses into a new, post-pandemic era.

As corporations' responses continue to evolve, there is appetite and readiness for even greater transformation.

The most successful law departments will be those that leverage the momentum of the pandemic era to actively embrace transformative change.

In this report, our friends at Thomson Reuters focus on two key priorities: safeguarding the business and conducting operations as efficiently as possible.

Download it for insights that will help you:
Benchmark legal spend and team size against the latest peer data

Optimize systems and processes to drive greater efficiency by learning from others

Innovate for the future by understanding how other law departments are implementing transformational change




Fill out the form to view this report today!


By filling out the form you are opting in to receive communication from Above the Law and its Partners.
---