Invest in Real Estate with the Experts at iintoo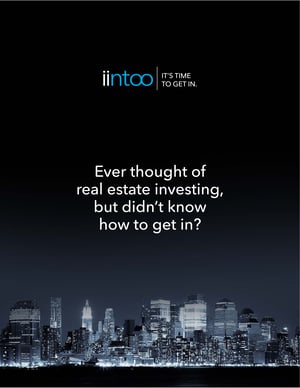 A diverse investment portfolio helps protect against risk. One asset class you can consider that has had historically strong annual returns is commercial real estate. In fact, this asset class has at times outperformed the S&P 500 during the past two decades and offers high returns on annual income, averaging 7.2%.1 In comparison, stocks may generate high returns over time, but offer very low returns until they are sold. The simple reason for CRE's advantage over stocks is that rent payments typically generate income for investors during the entire holding period - from the moment the property is purchased until it is sold.
Thanks to iintoo, an innovative online investment platform that provides convenient access to CRE, investors can get into this alternative asset class with just $30,000. The experts at iintoo offer investors hand-picked, pre-vetted real estate deals. Across the hundreds of real estate opportunities evaluated by iintoo each year, only ~10% are approved. This due-diligence process examines all aspects of each project and analyzes developers' business plans to ensure that they meet iintoo's standards.
To learn more about investing in commercial real estate, download iintoo's report today, and find out how you can get direct access to premium real estate opportunities from industry experts.
1 Source: "Why U.S. Commercial Real Estate." August 2018. CoStar Realty Information, Inc.
This is an advertisement for iintoo.com. Securities offered through Dalmore Group LLC, a registered broker-dealer and member of FINRA/SIPC. This is not an offer to buy, sell or trade securities. Investments are not FDIC insured, have no bank guarantee, and may lose value. For more information please read iintoo's full disclaimer.