How AI Is Reshaping Privilege Review

The artificial intelligence software Text IQ recently helped Cravath Swaine & Moore secure one of the top industry awards for technological innovation.
Now, you can hear directly from Cravath's lead eDiscovery counsel about how AI is helping lawyers speed the privilege review process while enhancing — not sacrificing — the quality of this critical legal work.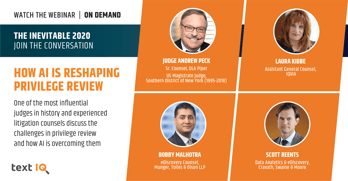 Scott Reents of Cravath is one of several industry leaders in Text IQ's on-demand webinar, which also features Judge Andrew Peck, a longtime U.S. magistrate judge in the Southern District of New York and current senior counsel at DLA Piper; Laura Kibbe, assistant general counsel at IQVIA; and Bobby Malhotra, e-discovery counsel at Munger Tolles & Olson.
These panelists also explore how AI can help in-house teams transform litigation, cut costs, and add predictability to their budgets, among other benefits.
Additional topics covered:
Privilege Review 101: Definitions and Nuances
The evolving view of the courts
Advances in technology
What the future holds
Sign up today to ensure your legal team is operating at the cutting edge of this key practice area.
By filling out the form you are opting in to receive communication
from Above the Law and its partners.
---