The Complete Guide to Working Remotely as a Lawyer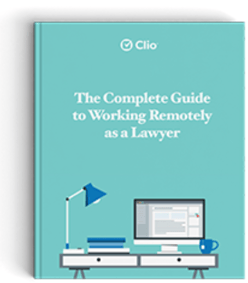 Work outside the office--securely, efficiently, and successfully
Can lawyers and legal professionals work remotely? In most cases, the answer is "yes." As the situation surrounding COVID-19 evolves, it's more important than ever that lawyers are able to make this choice to keep their clients, communities, and families safe.
In this in-depth guide, we'll cover practical tips for working remotely, whether you're completely new to remote work, or whether you've tried it in the past. We'll cover:
10 steps to follow for successful remote work

What to do if you still need to meet clients in person

A basic list of tools to use for remote lawyering




Read this in-depth guide for the information you need to set yourself up to work from home or elsewhere.
By requesting this report you are opting in to receive communications from Clio and Above the Law.