12th Annual Law Department Operations Survey Report
Continuing to Mature While Embracing Uncertainty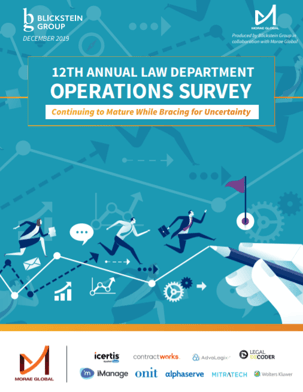 For the past 12 years, the annual Blickstein Group Law Department Operations Survey, published in collaboration with Morae Global, has amassed key trend data concerning the burgeoning discipline of legal ops. The findings of the 2019 LDO Survey reveals a profession continuing its ascendancy while contemplating the prospect of a market downturn. Today we make available for download a report highlighting key findings from the survey: 12th Annual Law Department Operations Survey: Continuing to Mature While Bracing for Uncertainty. After years of impressive growth, how will the field of legal ops adapt as we may finally be heading for a slowdown?
This free report also details legal operations professionals' assessment of the relative effectiveness of various emerging technologies, as well as their perspectives on:
Formal metrics programs
Legal project management
Contract lifecycle management
Artificial intelligence
And much more…
Additionally, this 34-page Survey Report includes more than 70 data points on the current state of legal department operations.